Luis Enrique Camejo was born in 1971, in Pinar del Rio. Between the years 1983 and 1996, he studied at the School of Arts in his native city, the National School of Art (ENA), and the Superior Institute of Art (ISA).
The works of this artist could be described in numerous different words. His creativity, mastery, and talent follow a rising process in the extensive catalog of our plastic. The city and the man, the photography, the time, the space design, the imagination, the landscape, the rain or the mist, and even the energy constitute "ingredients" that gathered, offer the vision of the work of one of the most exceptional and serious young Cuban artists.
While traveling through the creator's own landscape, the spectator could find thousands of streets, those that once crossed his way or his mind; hence this movement between imagination/abstraction is also recurrent in his work, where it is possible to discern a poetic universe that resizes reality by creating an atmosphere, lyrical at times, above the secret relations of the man and his everyday surrounding. It is life, theater, reality, and unreality, because we observe the landscape through his prism, as he wants us to see it or as he himself captures it, amazing our senses. Out of magic, his painting makes us feel cold, humidity, heat… He does not try to find what is happening; he is more related to photography. It is the substitution of the place: there is a before and an after.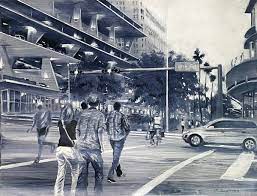 In the paintings, he gives us his vision, the "silhouettes" of cities, spaces, and people that have passed in front of his eyes during his travels to different places of the world, but above all, from our Havana.
In his particular way to work, he reflects the present reproduced in the go and come of the city, and much more; because his work is seen through a personal "lens", including its focus that dialogue with the color, which, the creator adds organically in a precise, moderate form. The shades show a grammar of the space, and the figure is constructive but on an occasion, it is so physical that it introduces a sort of another dimension. There it is, embedded in the painting. We can meet in the course with some feeling revealed in the shades that occasionally lead the pieces; it is his way to say, without words… Blue, purple, sepia, red, gray…, it is a stamp left in his pictorial work, in any technique used, over the dissimilar surfaces he utilizes. They are, as the critic Antonio Eligio Tonel says: «Cities where the storm has burst or is imminent, covered by uncertain lights that hide as much as they show, damped in gray and monotonous heavy rain, crossed by grave and solemn vehicles, with the intimidating aspect of ghost ships».