Cuba has become an increasingly popular destination for tourists and business travelers from around the world. To ensure a hassle-free and enjoyable trip, it's essential to familiarize yourself with the local regulations regarding visas and health insurance. This comprehensive guide will help you navigate the process of obtaining a visa for Cuba, focusing on tourist card/visa requirements.
Why Do You Need a Cuban Visa?
A Cuban visa, also known as a tourist card, is a mandatory requirement for travelers intending to visit Cuba for tourism purposes. This document serves as an official authorization to enter and stay in the country and is essential to ensure your legal status during your trip.
The Cuban tourist card is a physical document created to support entry and exit stamps in and out of Cuba without having a stamp on your passport. This is essential for those who wish to visit the USA after Cuba and utilize the ESTA program.
The card cannot be sent via email and must be obtained through a Cuban Consulate or specialized travel agency. It is required for every traveler, including babies, and many airlines will check for it before allowing passengers to board.
Travelers without a valid visa or tourist card may be denied entry into the country, leading to unexpected complications, additional expenses, or even cancellation of the entire trip.
Having a valid Cuban visa ensures that you are well-prepared for any unexpected events during your stay.
By securing a Cuban visa prior to departure, you can focus on enjoying all that Cuba has to offer without worrying about potential entry issues or legal complications.
Cuban Tourist Card: What is it?
For French nationals planning a vacation in Cuba, no visa is required; a valid passport is sufficient for entry into the country.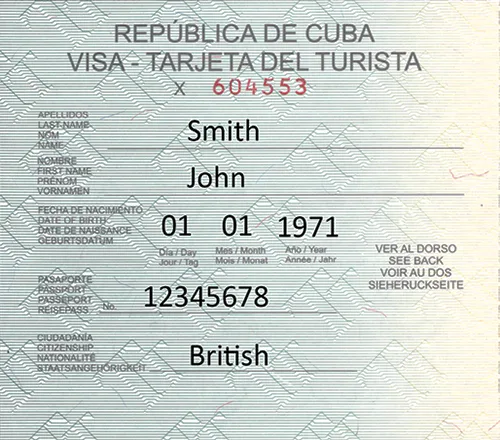 However, each traveler (adults and minors) must also possess a duly completed "tourist card."
This card, priced at €27 per person, resembles a small loose sheet of paper and can be obtained from the Cuban consulate in Paris or through your travel agency if you book your trip with a professional tour operator.
Be careful not to lose this document, as losing it may result in being denied entry upon arrival in Havana.
The tourist card is valid for a single entry into Cuba within six months from its date of issue and allows you to stay in the country for up to 90 days.
How to Obtain a Cuban Tourist Card
Acquiring a Cuban tourist card is relatively straightforward. You can purchase a tourist card in a few steps right with NovelaCuba.
Remember that you must provide accurate personal information when completing the tourist card.
Once issued, the tourist card permits entry into Cuba within six months of its issuance date and grants a stay of up to 30 days.
Extending Your Stay in Cuba
The Cuban tourist card can be renewed once while in Cuba, allowing for a maximum consecutive stay of two months.
To apply for an extension, visit the immigration office in Havana at 166 Calle Desamparados or any of its branches in the country's major cities.
The renewal process requires presenting various documents, including your return ticket, and proof of comprehensive international health and medical repatriation insurance.
Does everybody need a Tourist Card?
For travelers originating in the United States, there is a specific procedure that must be followed in order to travel to Cuba, which includes filling out a form called an AFFIDAVIT. The airline is responsible for providing customers with this form, as well as the entry visa to Cuba.
If you are a foreigner of another nationality but you have a valid residence permit in one of the European Union countries, you can also enter Cuba with a tourist card, your passport, and your residence permit.
People from these countries have to Check with the Cuban embassy directly: Afghanistan, Bangladesh, Cameroun, Érythrée, Éthiopie, Ghana, Guinée, India, Iran, Irak, Népal, Nigéria, Pakistan, Philippines, Sierra Leone, Somalia, Sri Lanka, Syrie, Uzbekistan, Yémen.